War Stories, Mysteries & More – Tillamook County Pioneer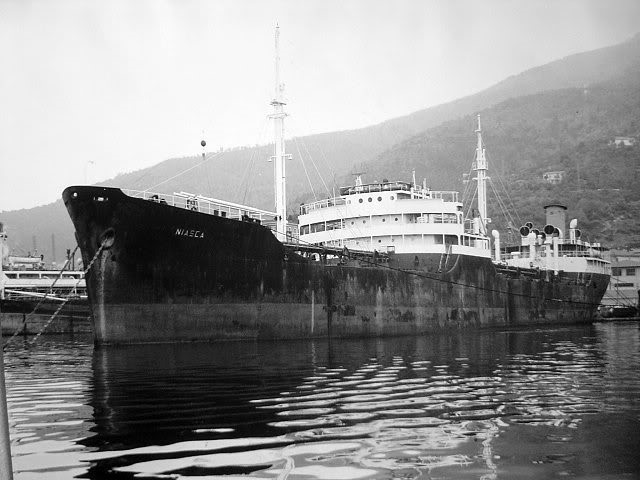 By Charles McLaughlin
In 1944, at age 16, I joined the Merchant Navy, trained on Catalina Island off the coast of Southern California, then sailed for the South Pacific aboard the tanker T2SE-A1 Ft. Donaldson as an ordinary seaman.
Harold was flying B-29s as a radar operator at the time and was stationed in Saipan in the Northern Mariana Islands of the South Pacific. His squadron was bombing over Japan and he flew an astounding 35 missions before he was fired and returned home! Coincidentally, the Fort. Donaldson first sailed to Aniwetok in the Marshall Islands, then to Ulithi in the Caroline Islands, not far from Saipan! Our ship also anchored here and there and transferred oil to warships on the high seas in between.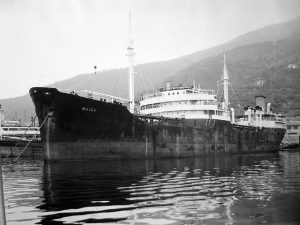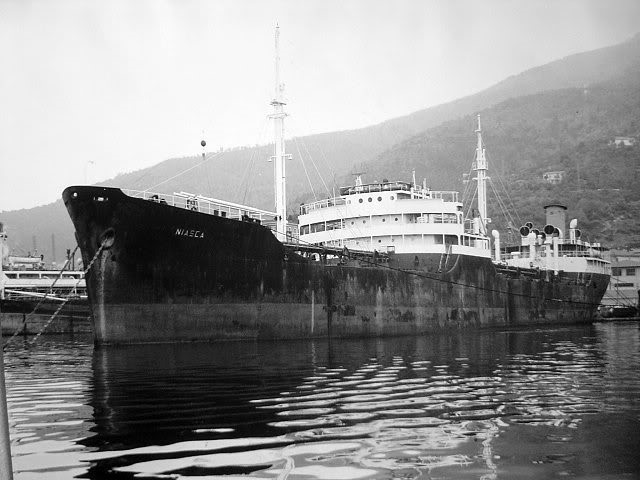 On the warm, still evening of November 20, 1944, while anchored at the southern anchorage of Ulithi Atoll, our ship and others nearby were attacked by Japanese Kaiten suicide submarines! That pitch-black night suddenly brightened like it was noon, then went dark again. Then again it became bright, followed by huge explosions and flames, the tremors of which shook our ship and caused it to pitch and roll like a cork in the water. Shocked and somewhat disoriented, we were able to make our way to our battle stations as the resulting explosions and flames continued. Our ship was undamaged but the oil tanker Mississinewa anchored ahead of us was engulfed in flames and sank with the loss of all but 63 of her 352 crew. When things calmed down, we were informed that Kaiten submarines had entered the anchorage and had also destroyed a small naval aircraft carrier. It was the only time the Fort. Donaldson was in direct attack conditions while serving in the war. Several weeks later, we returned home to refuel. I landed in San Francisco and returned home for Christmas.
A brief note regarding the attack on Ulithi. For several decades after this unforgettable incident, I tried to locate the naval history of the attack on our naval forces and the merchant ship Mississinewa. I could never find formal confirmation of what I had experienced, but about 10 years ago a good friend of mine, Bill Mullen, from Nehalem, out of the blue sent me a link to a video he thought would interest me. Mind you, he had no knowledge of my experience at Ulithi. When I clicked on the link, the main line "Ulithi, 20 November 1944" appeared and started showing actual footage of the sunken oil tanker Mississinewa and in the background you could see a huge column of smoke coming from another victim of this attack. . He didn't show the carrier, but he convinced me that the whole story was there so everyone could see who had been there.
Another aspect of this story is that about a year ago I bought an autobiography of a Japanese Kaiten operator and found that he had checked out the Ulithi attack that night, but thought it was a failure! He had this impression because no member of the suicide squad survived and the Navy never confirmed the attack! Another book written by one of the survivors of the sinking of the Mississinewa wrote a book called "Kaiten". It was published by Penguin.
The Kaitens were piloted by a lone Japanese volunteer and his mission was to die for his country: make it or break it! Once sent, it never came back. A miss meant getting blown up!
For the next nine months, I was home, but not working, hanging out, meeting my friends, partying, and deciding what to do with my life. Everything changed radically when on August 16, 1945 at noon precisely, my mother died of a heart attack! She was only 39 years old. Since my brother and sister had already left home and I had just turned 18 and could manage on my own, it was decided that grandfather and grandmother could return to the area of ​​the bay they loved and that I would join the US Navy. And that's what happened.
While in the Navy, I trained as an Aviation Electronics Technician (AETM) Journeyman in Jacksonville, Florida and Corpus Christi, Texas. After training, I was sent to a weather squadron stationed in Miramar, California, a few miles north of San Diego. My duties consisted of maintaining and repairing electronic equipment and operating radar and radio equipment during flight in a PB4Y2 aircraft. Our mission was to conduct reconnaissance flights over the southwest coast of California. I stayed there until the end of 1946.
While in Jacksonville, Florida, the springboard diving training I received from a former diving champion (mentioned earlier) came into play. The Navy was holding a Naval District competition, part of which consisted of springboard dive. I didn't know until an unknown sailor approached me in my barracks and told me that he had been informed that I was a diver. Surprised, I said it was true and asked him why he was asking. He then told me that the person who was supposed to play the role of our rep got sick and if I would replace him. I told him I hadn't competed in years but I would give it a try if he couldn't find someone else. So to speak, I ended up competing and, by some incredible luck, I won the event! The intention of telling this story was not to brag, but to highlight how small decisions we make can totally change our lives. Shortly after, the dive team trainer approached me and offered me a position on the naval dive team, which would mean extensive advanced training on state-of-the-art equipment and travel and skills. performances across the country to encourage recruitment. . I thought about the offer but decided to decline it, as I didn't want to pursue a career in the military. You see, to join the dive team, I had to commit to a 4-year re-enrollment. At this time in my life, I was not thinking of the army but rather of home!
Returning home, like thousands of returning veterans, I joined the club 52-20. It was a coined term describing a government program that paid veterans $20 a week for 52 weeks to help them readjust to civilian life after release. I used it to help me learn to fly! I had flown in planes during the war, but I did not fly them.
I trained at Minter Field outside of Bakersfield, which housed small fabric or metal planes like Beechcraft Bonanzas or Navions. I trained in a Taylorcraft, a high-wing fabric two-seater, received my pilot's license, and did my first solo cross-country, which included a stop at Panco Barnes Airstrip. in the Mojave Desert, the second leg to Cambria Pines on the coast and the last leg back home.
Pancho Barnes was a barn-storming female pilot and the daughter of a wealthy man who allowed her to pursue her passion for flying. She's a legend and has become a fixture in the Mojave Desert's Antelope Valley by building an airstrip, hotel, and bar/restaurant to accommodate flyers of all kinds and some legends themselves. She also started the "Happy Bottom Riding Club" which I became a member of when I was traveling on the eastern leg of my solo XC flight. Let me prepare the ground for you. This strip was nothing fancy, dirt, not really wide and not very long in my memory. And the winds there were high and could change direction 90 degrees in the middle of your stall to land! There isn't much lift there either, which sometimes meant several attempts to get the light fabric planes over the mountains to get out of there. Well after you landed you walked into a structure reminiscent of an old western bar and there was this ledger like book in there where you signed your name and that was all it took for you to become a member of the Happy Bottom Riding Club!
What makes my membership memorable is that years later I was watching the movie version of Tom Wolfe's 1979 book "The Right Stuff" and, damn it, the first meeting of future astronauts was right there at Pancho Barnes . ' place and they all joined the Happy Bottom Riding Club! Now that's not something…
Need to catch up on the Ramblings series – here are the links:
#1. https://www.tillamookcountypioneer.net/renderings-and-ramblings-of-an-aged-bohemian/
#2. https://www.tillamookcountypioneer.net/renderings-and-ramblings-of-an-aged-bohemian-stanyan-st-stinkers-take-on-san-francisco/
#3. https://www.tillamookcountypioneer.net/renderings-ramblings-more-about-life-as-a-kid-in-san-francisco/
#4. https://www.tillamookcountypioneer.net/renderings-ramblings-mayday-queen-eucalyptus/
#5. https://www.tillamookcountypioneer.net/renderings-ramblings-a-30-30-rifle-and-ziegfeld-girl/
#6. https://www.tillamookcountypioneer.net/renderings-ramblings-school-in-b-town/
#7. https://www.tillamookcountypioneer.net/renderings-ramblings-technology-and-grandma-seymours-cooking/
#8. https://www.tillamookcountypioneer.net/renderings-ramblings-schoolboy-shenigans/
#9 https://www.tillamookcountypioneer.net/renderings-ramblings-getting-to-know-the-mclaughlins-meet-chucks-siblings/