US Senate agrees to shipping law reform as more shipper complaints hit the lines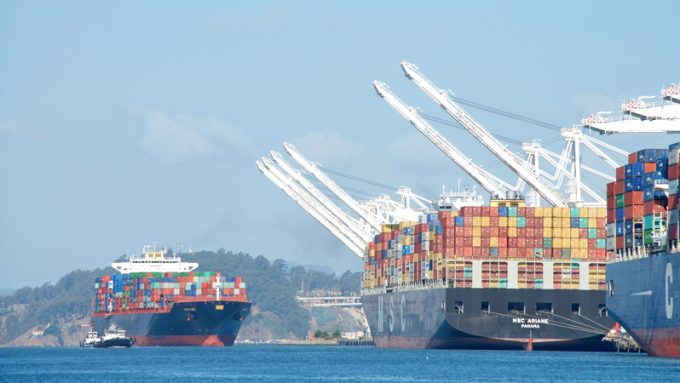 The US Senate yesterday passed the Ocean Shipping Reform Act 22 (OSRA 22) and will now seek to agree a final version of the bill with the House of Representatives before President Biden signs the legislation.
Beneficial cargo owners and non-vessel operators at U.S. terminals have vehemently raised issues that have hampered supply chains, which OSRA 22 seeks to address, but with contract negotiations between unions and terminal operators terminals due to start on May 12, more disruption could be on the way.
However, International Longshore and Warehouse Union (ILWU) President Willie Adams remained optimistic.
"We are optimistic about the negotiations and look forward to sitting down with the employers. The union and employers sat down at the start of the pandemic and negotiated pandemic protocols that allowed the cargo to keep moving. We are proud of the ILWU's record results in the toughest times, and we believe we will get a fair deal that protects the safety and well-being of these incredible workers.
The global pandemic provided the backdrop for growing dysfunction in supply chains and for dockworkers to negotiate a new contract. But while union representatives are optimistic about contract negotiations, shipping companies' views on developing legislation do not match that optimism, with carriers believing they are blamed for supply chain problems that are not of their doing.
As a result, shipping companies have spoken out against OSRA 22, saying the legislation would "upend" the global freight forwarding system and see a deterioration in the services offered to US importers and exporters.
John Butler, President and CEO of the World Shipping Council (WSC), said: "It is disappointing that unfounded allegations are being made against an industry that is moving more goods now than at any time in history in order to meet the unprecedented demand for imported goods. during the pandemic.
Nevertheless, allegations from carrier customers continue to pour in, the latest being Foreign Tire Sales, which filed a complaint with the Federal Maritime Commission (FMC) alleging that Evergreen failed to meet its contractual obligations to provide space on his ships. In another, Royal White Cement alleges that CMA CGM refused to take a booking and supply material for exports.
These two complaints, primarily for denial of service, constitute the bulk of those brought against the carriers, as well as the controversial and long-standing issue of detention and demurrage (D&D) charges.
OSRA 2022 will require shipping lines and marine terminal operators to demonstrate that D&D fees are "just and reasonable", and the FMC will be granted greater oversight powers over what is an essential industry for American trade.
Meanwhile, shipper representatives have welcomed the new legislation, with the National Industrial Transportation League (NITL) saying it will bring shipping regulations in line with major changes in the industry.
The NITL argues that its members continued to experience delays and business interruptions, which led to increased costs and deteriorating service levels.
"We strongly support the Senate's bipartisan leadership in modernizing the Shipping Act to help meet today's challenges. This commitment, combined with continued support from the White House and House of Representatives, is a critical step toward addressing the systemic issues that are contributing to the challenges at U.S. seaports and the unprecedented disruption to the shipping network. It said.
According to the Agriculture Transportation Coalition (AgTC), agricultural companies have filed complaints about ship operators' inability to supply equipment and provide service, fearing that failure to export means foreign competitors will fill gaps.
"A recent AgTC survey found that on average, 22% of U.S. overseas agricultural sales could not be completed due to shipping disruptions, costs and carrier practices, which significantly limit export shipments and impose fees already declared unreasonable by the federal Maritime Commission," the AgTC said.
This major overhaul of the US shipping law, which hasn't been seen since 1998, will, according to the WSC, "reduce service to US importers and exporters and increase costs for US consumers and businesses."
Shippers, meanwhile, say the OSRA 22 revision is "essential for U.S. importers, exporters and consumers impacted by the disruption in the shipping supply chain."