US and China Create World's First Green Maritime Corridor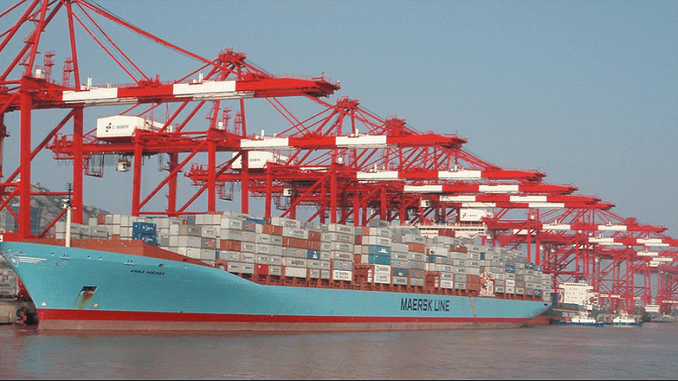 LOS ANGELES, Calif., February 10, 2022 (ENS) – Los Angeles and Shanghai have launched a partnership between cities, ports, shipping lines and cargo owners in China and the United States to create a one-of-a-kind green shipping corridor across the Pacific Ocean on one busiest container shipping in the world. routes.
The Port of Shanghai, which is the busiest port in the world, and the Port of Los Angeles, the 17th busiest port in the world, have set a common goal to begin the transition to zero carbon fuel vessels from here 2030.
Together with the nonprofit C40 International Cities, they are committed to reducing greenhouse gas emissions from the movement of goods throughout the 2020s.
Gene Seroka, Executive Director of the Port of Los Angeles, said, "International collaboration is key to decarbonizing global supply chains. We look forward to partnering with the Shanghai Municipal Transportation Commission, Shanghai International Port Group, major shipping companies and major cargo owners to reduce greenhouse gas emissions in the maritime supply chain. It is time to begin this important work.
By the end of 2022, the two ports along with industry partner shipping companies and cargo owners have committed to deliver a Green Shipping Corridor Implementation Plan outlining exactly how they will decarbonise it. This plan will include deliverables, milestones and roles for the partnership.
Key decarbonization goals of the Green Shipping Corridor partnership include:
– The gradual introduction of low, ultra-low and zero-carbon ships in the 2020s, with the world's first zero-carbon transpacific container ships introduced by 2030 by qualified and willing shipping companies.
– The development of best management practices to help reduce emissions and improve the efficiency of all vessels using this international trade corridor.
– Reduce supply chain emissions from port operations, improve air quality in the ports of Shanghai and Los Angeles and adjacent communities.
The City of Shanghai, the City of Los Angeles, the Port of Shanghai, through the Shanghai Municipal Transportation Commission, the Port of Los Angeles and C40 Cities initiated this Green Shipping Corridor partnership.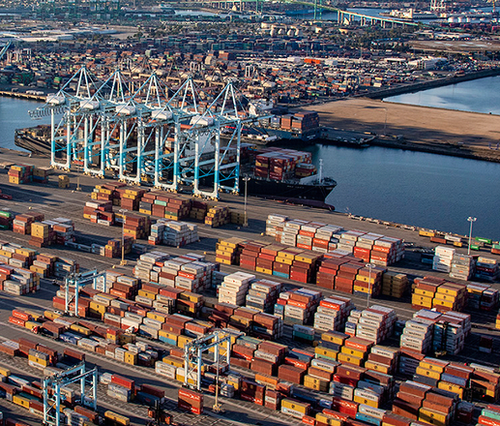 During his tenure as C40 Chair, Los Angeles Mayor Eric Garcetti launched the C40 Green Ports Forum to decarbonize the global supply chains that power our economies, one of his top priorities as Chair. . The Port of Los Angeles, under the leadership of the Mayor, has been instrumental in developing the Los Angeles-Shanghai Green Shipping Corridor partnership.
Participating partners include two of the world's three largest shipping companies: AP Moller – Maersk, from France, and CMA CGM, from Denmark.
Shanghai International Ports Group is a partner with COSCO Shipping Lines, Aspen Institute Shipping Decarbonization Initiative, Cargo Owners for Zero Emission Vessels (coZEV) facilitators and Maritime Technology Cooperation Center – Asia .
Mark Watts, Executive Director of C40 Cities, said: "There is an urgent need to accelerate efforts to decarbonize the shipping sector if we are to limit global warming to 1.5°C. By convening international coalitions of the willing and creating a scalable, replicable model for other cities to follow, we hope this groundbreaking Green Transportation Corridor initiative will catalyze action on a global scale.
Dan Porterfield, President and CEO of the Aspen Institute, said, "It is inspiring that the United States and China have come together in this way to address the climate impact of this crucial global industry.
"Through our initiative to decarbonize shipping and in our role as facilitator of the Cargo Owners for Zero Emission Vessels initiative, we look forward to working with our partners to help enable the deployment of the first vessels powered by cycle fuels. zero greenhouse gas emissions living along this critical sea route and to make this Green Corridor project a model of success for the rest of the world," said Porterfield.
The global shipping industry is responsible for three percent of global greenhouse gas emissions. Globally, greenhouse gas emissions from the shipping industry are expected to double by 2050.
The establishment of green maritime corridors is essential to enable the rapid adoption of long-term decarbonisation solutions for international maritime transport, in particular along major routes.
The Trans-Pacific Corridor is the busiest container shipping lane in the world. In 2020, ships using this corridor moved 31.2 million 20ft-equivalent containers – 21% of the global total – across the Pacific Ocean, according to the United Nations Conference on Trade and Development in 2021.
The World Shipping Council supports decarbonization and has identified six regulatory and economic paths to achieve this goal, all of which are essential for the nations of the United Nations International Maritime Organization, IMO, for a successful maritime energy transition.
One of the avenues is the Green Corridors program to accelerate a fair energy and technology transition, introducing ships that do not emit greenhouse gases and clean fuels on trade lanes where the energy infrastructure necessary to land is first available.
Furthermore, the Council calls for a controversial solution – a global price on carbon emissions.
"A global carbon price combined with reliable, large-scale 'buy-back' programs that effectively level the playing field between new low and zero GHG ships and the tens of thousands of ships that will continue to burn conventional fuels ", the Council said. on its website.
A global carbon price, "…will play an important role in enabling companies to put GHG-free ships on the water and operate them competitively."
John Butler, President and CEO of the World Shipping Council, said: "Liner shipping understands the shared responsibility for GHG reductions in the maritime sector, and we do not underestimate the challenge. We are committed to decarbonizing shipping and have multiple ideas and projects underway. But to be able to make those investments, to take the necessary risks, we – and all other maritime players – need a regulatory framework that addresses key strategic issues.
Butler said: "Action is now needed from governments IMO not to block development, but rather to support ambitious innovators and trailblazers."
The featured image: A Maersk container ship at Yangshan Deepwater Port in Shanghai, 2009 (photo by Tyler Hagerlundt)
Environmental Information Service (ENS) © 2022 All rights reserved.