Shipping companies take off vertically as "integrators" – a threat to air cargo?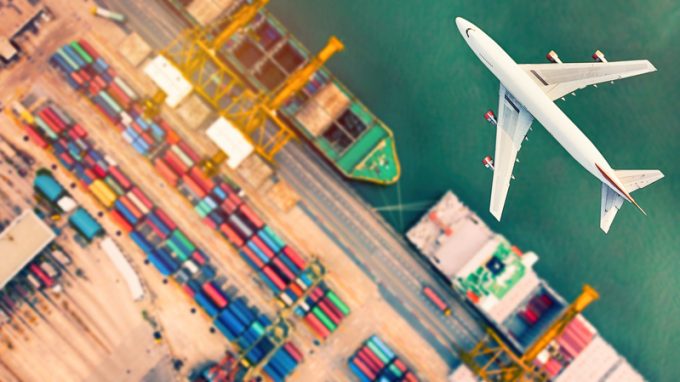 Maersk is said to be in the market for one of the top five freight forwarders as the huge profits of shipping companies – a combined ebit of $ 37.24 billion in the third quarter – are expected to disrupt the logistics industry, as air freight s' particularly interesting to the result.
Maersk's high-profile acquisition of Senator, two 777Fs and the lease of three 767-300Fs for its Star Air subsidiary, as well as its entry into transit, could well disrupt the market.
Then, of course, there is CMA CGM's decision to create its own airline, having acquired four A350Fs, two 777Fs and four A330Fs. As the owner of Ceva Logistics, like Maersk, the line seeks to become a one-stop shop.
However, in these discussions, we often forget that there are two other vertically integrated airlines: Evergreen, which has orders for ships that will double the size of its fleet (it ordered 24 ships for some $ 1 billion in September, and 20 in March, for $ 2.6 billion) owns EVA Air, which made a profit in the third quarter and currently has six 777Fs with one on order.
But there is an even closer example, which tends to go unnoticed: NYK Line, which owns Yusen Logistics, and Nippon Cargo Airlines (NCA), which owns eight 747-8Fs and a 747-400 fleet operated by Atlas. Air.
However, so far there have been no issues with other freight forwarders using NCA. Last year, for example, Ceva operated 40 charters with NCA. But with the more aggressive moves from Maersk and CMA, will the market take a closer look at other integrations?
While the decisions of Maersk and CMA are not new, the amount of money and the competition in the market are.
"This is an interesting initiative from Maersk, especially since it is embarking on air logistics. It's a rapid development and just ahead of CMA CGM, "said a senior air freight executive. "But what will Evergreen and NYK's counterattack be to ensure competitiveness?" "
The executive also noted that this vertical integration could lead to new cooperation on the ground, which could give companies a competitive advantage over pure airline competitors – such as integrators and the major global freight forwarders who compete with their own. own controlled capacity, a growing number of trends (Atlas Air announced an extension of its agreement with DB Schenker today).
"How will we approach the obvious logistical synergy of operations and management – on the ground in airports, trucking, rail? Will airports and seaports see opportunities beyond the traditional air-sea mode and seek synergy in the processes that can really disrupt the industry?
"I think they will – but who will be first? "
Earlier this year, an executive close to CMA noted that the line was likely to develop an air-to-sea product (although last month it withdrew its air services from Dubai).
"CMA has little experience in air freight, which is totally different from ocean freight. But there is room to create a solution between sea and air. CMA really does deal with shippers with a sea and air need, and it is possible to combine those needs.
"There is a good synergy for a multimodal solution. Covid has changed the logistics needs of shippers and freight forwarders, so this is something quite new. "
For a ground-integrated process, shipping lines might consider purchasing a stevedore – but a senior stevedoring manager pointed out that the only way to make money in stevedoring is high volumes, hence the evolution. to large global material handlers.
But the air cargo manager added: "It is inconceivable that any of the global handling companies (currently owned by PE companies) would not jump at the opportunity for a strategic alliance with one of these groups. .
The manager also asked how vertically integrated companies would manage their tariffs.
"It's better for them when it's all their freight. When it's other people's freight, they peel off.
He recalled that CMA CGM Air Cargo had outsourced its sales – with the exception of some 30% of the capacity initially reserved for Ceva – to a GSA, the ECS group.
"GSAs and freight forwarders need to make money and think they can make money with the airline, but who will pay for it, if it's the same group?
"GSAs will look for volumes, but a company in the group cannot pay more than what GSAs sell – that would be a mockery. And if the customers of the group benefit from low tariffs, the airline company will not be able to take care of it. High rates through a GSA, and they will lose the market. "
Meanwhile, freight forwarders are already complaining that Maersk's integrated logistics operations are biting into their business, with two witnesses The charging star Maersk had contacted their customers, while preventing them from booking with the shipping company.
Another warned that he could feel Ceva breathing down his neck when booking with CMA CGM Air Cargo.
And with sources reporting that Maersk is expected to buy one of the top five freight forwarders, the transformation to "integrator" will essentially be complete – potentially leaving "pure" airlines in the cold.
Interestingly, the most vertically integrated company, Amazon, yesterday predicted that it would be larger nationally than FedEx and UPS by the first quarter of 2022.