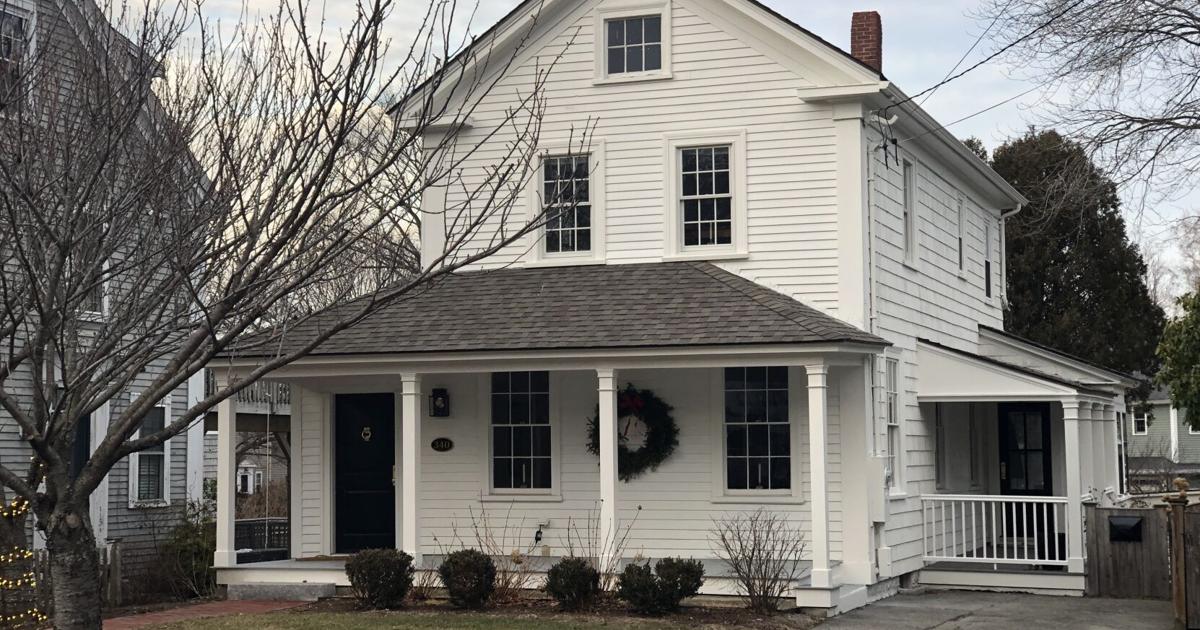 Editor's note: This is an occasional feature highlighting historic properties in Newburyport that are best enjoyed by walking "@3mph".
When researching the history of 340 Merrimac St., near Merrimac Court, it was evident from the structural features of the foundation that the house had been moved. But from where?
The owner "heard from a neighbour" that the house had been moved, but stories of houses being moved in Newburyport are widely publicized but rarely verified.
Finding primary source evidence to support when and where a house was moved has proven difficult for Newburyport historians; no old municipal permits were discovered at City Hall and other documents are rare. A few important sources have been uncovered during research into the history of 340 Merrimac St. that verify that the Greek Revival house was once John Currier Jr.'s shipyard office.
John Currier Jr. (1802-1887) established Currier's Dockyard at the foot of Merrimac Court near present-day Currier Landing in 1831. During his illustrious career, Currier built and launched nearly 100 large ships from a total registered capacity of over 90,000 tonnes.
Ships sailed to distant lands, transporting livestock and goods to and from America. Currier's last large merchant ship was built in his shipyard in 1883.
After that, Currier's shipbuilding practice steadily declined. Throughout his career, Currier had one of the finest reputations as a master shipbuilder in all of America.
On early maps and in early tax records for Newburyport, Currier's Dockyard included a small building which was converted into Currier's office or "counting room" around 1855. The day-to-day operations of Currier's Dockyard were run at from this office.
John Currier Jr.'s son was John James Currier, the famous Newburyport historian who chronicled the history of Newbury, Newburyport and West Newbury in four books. His "History of Newburyport, Volume 1" includes information on how and when the streets of Newburyport were laid out.
Local history buffs use Currier's meticulously researched books to gain insight into the early days of Newburyport's development. According to Robert Cheney's "Maritime History of the Merrimac" JJ Currier researched and wrote these valuable stories in the "Count Room" of the Currier Shipyard before it was moved to 340 Merrimac St.
Mary Carr Sawyer purchased John Currier Jr.'s home at 342 Merrimac St. in 1908 and adjoining land in 1913. Later in 1913, Mary moved Currier's shipyard office to its current location at 340 Merrimac St. and converted it into a home.
Old Newburyport tax records confirm the creation of the lot at 340 Merrimac and the present building as the "former dockyard office".
Next time you stroll through [email protected], don't miss the former Currier Shipyard office tucked away in its current location at 340 Merrimac St.
Barb Bailey is a researcher for the Newburyport Preservation Trust. She can be contacted at [email protected]