Mosque housing 80 civilians in Mariupol bombed; Russian rockets destroy Kiev airbase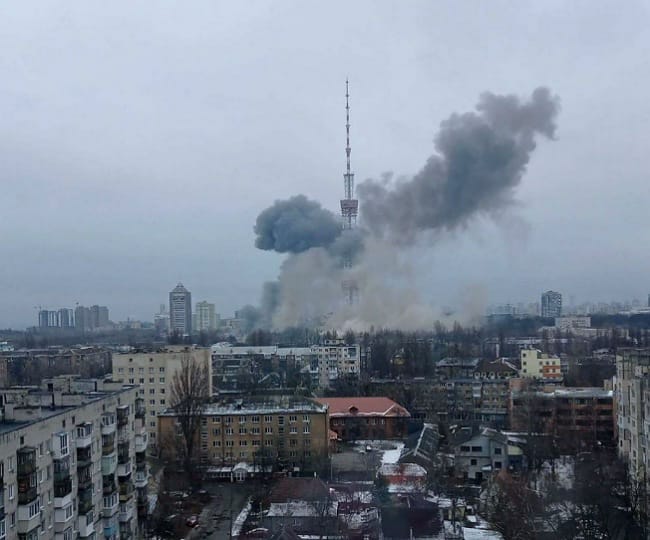 Moscow/Kiev/Washington | Jagran Press Office: Ukrainian President Volodymyr Zelensky on Friday accused Russia of kidnapping the mayor of the city of Melitopol, equating him with the actions of Islamic State terrorists. "They have moved to a new stage of terror, in which they are trying to physically liquidate the representatives of Ukrainian legal local authorities," Zelenskyy said in a video address. Kirill Timoshenko, deputy head of Ukraine's presidential office, posted a video on social media site Telegram which he said showed a group of armed men carrying the mayor, Ivan Fedorov, through a square.
Meanwhile, YouTube said on Friday (local time) it was blocking state-funded Russian media channels worldwide with immediate effect. YouTube said it had started blocking RT and Sputnik YouTube channels across Europe, adding that it had already taken other steps since Russia began military operations in Ukraine. YouTube added that when people search for topics about Russia and Ukraine, "our systems highlight authoritative news content in our Top News and Breaking News shelves, and will continue to do so as needed."
Here are the latest updates on the Russian-Ukrainian crisis:
– Russian rocket fire destroyed a Ukrainian air base near the town of Vasylkiv in the Kyiv region on Saturday morning, Interfax Ukraine quoted the local mayor as saying. The rocket attacks also hit an ammunition depot, Vasylkiv Mayor Natalia Balasynovych said.
– Ukraine says mosque housing 80 civilians was bombed in Mariupol
– Western sanctions against Russia could cause the crash of the International Space Station, warns the head of the Russian space agency Roscosmos, calling for the lifting of punitive measures
– Air raid sirens sounded in most Ukrainian cities after President Zelenskiy said the war had reached a "strategic turning point". Russian military units were closer to Kiev, firing artillery towards residential areas, satellite images showed.
– Russian forces appeared to be advancing from the northeast in their slow fight towards the Ukrainian capital, while tanks and artillery pounded places already besieged with shelling so heavy that one town's inhabitants were unable to bury the growing number of deaths.
– Deutsche Bank will end its activities in Russia, reports Reuters.
– Russia controls 70% of Luhansk oblast, reports AFP news agency citing the governor of Luhansk oblast, Serhiy Haidai.
– US sanctions Russians for supporting North Korean weapons program: AFP news agency
– In two weeks less than 100,000 Ukrainians arrived in Krakow and 200,000 in Warsaw. Both can no longer accept refugees, reports The Kyiv Independent citing Ukraine's Border Guard Service.
— Moscow denies Kiev claims Chernobyl nuclear power plant in danger after capture by Russian forces: Russian news outlet Sputnik
– Ukraine informed the International Atomic Energy Agency (IAEA) that it lost all communications with the Chernobyl nuclear power plant today, a day after the Russian-controlled site lost all power supplies external electrical equipment, tweets the IAEA quoting Director General Rafael Mariano Grossi
– Russia doesn't care about the safety of its own citizens, including thousands of rotting bodies of Russian soldiers. Troops sent by Russian President Putin to Ukraine for this ongoing carnage.: Ukrainian Ambassador to the UN Sergiy Kyslytsya at a UNSC meeting
– By convening this meeting, the aggressor state has once again shot itself in the foot. Ukraine operates a health system that fully complies with its international obligations. The rest is just a bunch of nonsensical delusions of Putin and his henchmen: Ukraine representative at UNSC meeting
– The Russian Ministry of Defense now has documents confirming that there existed in Ukraine a network consisting of at least 30 biological borders where dangerous biological experiments were carried out to enhance the pathogenic qualities of deadly diseases: Russia at the UNSC
– We invite you to think about a very real biological danger for the inhabitants of European countries, which can arise from the uncontrolled spread of bioagents from Ukraine. If there is such a scenario, then all of Europe will be covered with it: Russia's permanent representative to the UN
– From March 11, Loutsk, Dnipro and Ivano-Frankivsk are bombed. The shelling of the Kyiv and Kharkiv regions continued. Due to the blockade and shelling of Mariupol, 1,582 civilians died (Ukrainian Foreign Ministry)
– We will defend every inch of NATO territory with the full might of a united and galvanized NATO. But we will not wage a war against Russia in Ukraine. Direct confrontation between NATO and Russia is World War 3, something we must work to prevent: US President Joe Biden
– US officials provide confusing information about military biological activities in Ukraine. Undersecretary of State Victoria Nuland basically confirmed dangerous studies being conducted in Ukrainian labs: Russia at UNSC
– Europe will ban the export of luxury goods from the bloc to Russia, AFP news agency quotes European Commission President Ursula von der Leyen
– We sincerely hope that the ongoing direct negotiations between Russia and Ukraine will lead to a cessation of hostilities. There is no other alternative than the path of diplomacy and dialogue. The dire humanitarian situation requires immediate and urgent attention: TS Tirumurti, Permanent Representative of India to the UN
– We call again on Member States to adhere to the principles of the Charter of the United Nations and international law and to respect the sovereignty and integrity of States: TS Tirumurti, Permanent Representative of India to the United Nations at the UNSC briefing on Ukraine; Biological Program Reports
– Ukraine does not have a biological weapons program. There are no US-backed Ukrainian bioweapons labs, either near the Russian border or anywhere else (US representative to UN at Security Council meeting)
– Russia asked the UNSC for this meeting in order to lie and spread false information. He attempts to use the UNSC to legitimize misinformation and mislead people to justify Putin's pet war against Ukraine. China also spreads disinformation in favor of Russia: US at UNSC
– G7 leaders will agree to guarantee that Russia cannot obtain funding from major multilateral financial institutions, such as the IMF and World Bank. President Biden to sign executive order ending export of luxury items to anyone in Russian Federation: White House
— US to revoke Russia's 'permanent normal trade relations' status: US President Joe Biden
– To stand with the people of Ukraine, Canada and our G7 partners have pledged to take more action that will financially isolate Russia, put pressure on Putin and his enablers: Canadian Prime Minister Justin Trudeau.
Posted by:
Talibuddin Khan