Diana Shipping Stock: Time Charter Renewals Will Increase Average Rates (NYSE:DSX)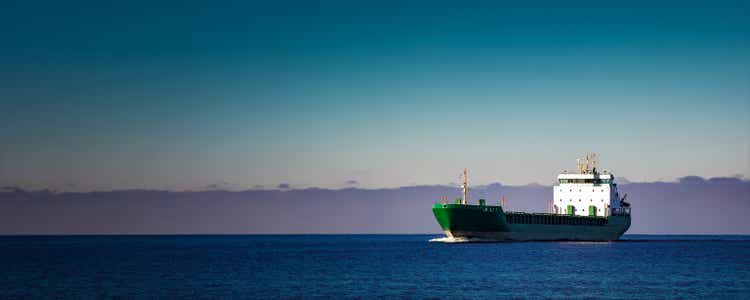 In my previous articles I have written why I believe Diana Shipping (NYSE: DSX) had all the necessary ingredients to benefit from higher freight rates, while still maintaining defensive play status in the dry bulk sector. The company has no spot market exposure and all of its vessels are time chartered to various charterers with varying contract lengths. From this perspective, it will be interesting to take a look at the company's time charter schedule and try to draw conclusions as to its attractiveness as an investment.
Current situation
In my previous article on the company, I had highlighted the increase in time charter renewals and the bottom line was that Diana should definitely be a defensive position in a portfolio of shippers. Thankfully, that was also Mr. Market's view, as stocks have provided shareholders with a total return of nearly 25% since (including the recent crisis), far outperforming the S&P 500. Do we have what? it takes for such a movement to repeat itself? Let's see.
As of June 28, 2022, the company owned and had already chartered a total of 35 vessels, ranging from Kamsarmaxes to VLBCs, at an average daily rate of $23.4k. From a vessel type specific perspective, we can see that Panamaxes and Post-Panamaxes are chartered at an average daily rate of $23.5k, while Capesizes operate at an average of $22.65k $ per day. Knowing this information, it would be interesting to see how much a typical panamax and capesize would be chartered for today?
Data from Hellenic Shipping News shows that a panamax would require around $24,000 per day for a one-year contract, while a capesize would reach $28,000 per day. By comparing these figures with the averages mentioned in the preceding paragraph, one can arrive at two distinct conclusions, which are linked up to a certain point.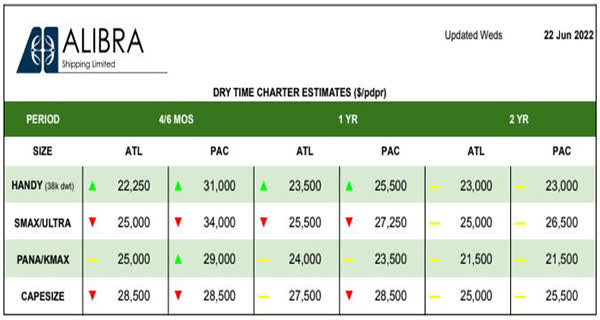 First of all, we note that despite the fact that for Panamax the rates observed are in line with what the company has in place, there is a large differential in charter rates in the Capesize category. We are talking about $5k per day, a difference of more than 20%. This brings us to the second conclusion, which is also obvious: it is abnormal that Capesizes are chartered at lower daily rates than Panamaxes. However, we can see this is the case with Diana Shipping.
The reason for these two discrepancies is the risk inherent in longer term charter contracts. Much like a long-term real estate lease, a long-term charter can make or break you. It gives you back when rates drop quickly but breaks you when rates rise quickly. If we look carefully at the company's time charter contracts on the Capesize segment, we will see that:
The M/V Capesize "Baltimore", built in 2005 and generating only $16,000 a day, was recently sold to OceanPal (OP), Diana's spot market subsidiary, for $22 million. The vessel is expected to pass to its new owner in the third quarter of 2022.
The company chartered its 2015-built m/v Santa Barbara from Cargill until at least May 2023 for a daily rate of $17.25k.
The company's m/v Boston, which was time chartered for $13,000 a day, is currently without a contract.
Based on the data listed above, and assuming a daily charter rate of $22,000 for the m/v Boston, the discounted average T/C rate is almost $24,000 per day. Although still significantly lower than current prices, it is still quite reasonable, considering the stability of future cash flows it offers. It could be considerably higher, if not for longer than usual with Cargill for the m/v Santa Barbara. This is also something I had written about in my previous article.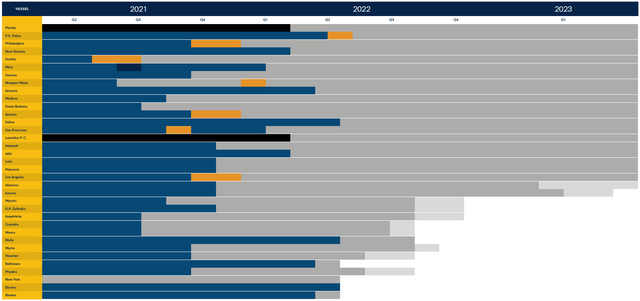 What's interesting, however, is that, as the graph above shows, many of the company's time charters expire until late summer or early fall. While there are some good deals in there, there are some not so good ones as well. I hope, however, that in the mounting global economic uncertainty, the company will avoid very long time charter contracts and sign contracts for 12 to 15 months.
Conclusion
Shipping is a very volatile market, and this is reflected in the movements of the Baltic Dry index. We can see that for various economic and geopolitical reasons, the BDI has failed to find a bottom over the past few months. Traditionally, however, the third and fourth quarters are the strongest, as demand is quite seasonal.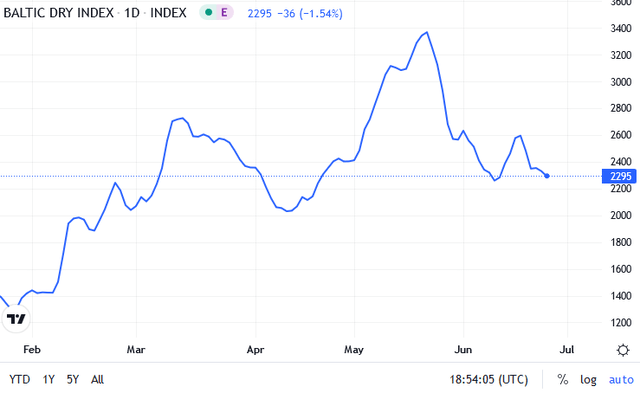 I addressed this question and its implications in one of my previous articles. What this means for a pure time charter company like Diana is that it will renegotiate its expired charter rates at the start of its peak period. Additionally, since Diana Shipping typically signs time charter contracts lasting at least a year, this strategy will move the company smoothly into a bumpier 2023. From this perspective, I think an investor still looking for exposure to the shipping market should definitely consider Diana Shipping as a defensive holding.