Congressional Gold Medal recipients tour the World War II Memorial ahead of the ceremony at the Capitol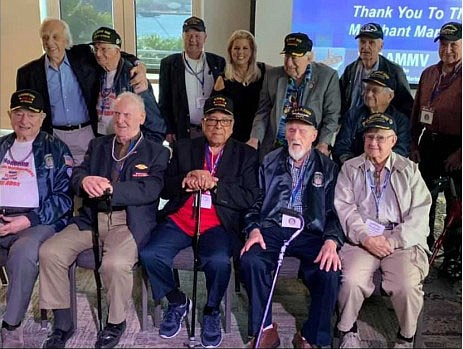 WASHINGTON — On Wednesday, May 18, 2022, World War II Merchant Seamen — the supply line of U.S. and allied forces — will be presented with the Congressional Gold Medal at Statuary Hall by congressional leaders. Award recipients will travel to Washington, DC from Arkansas, Florida, Pennsylvania, Texas and Virginia.
Due to Capitol Hill protocols, media access will be limited for this ceremony; however, WWII Merchant Seamen will visit the WWII Memorial on Tuesday, May 17, 2022 at 10:00 a.m. and will be available for media interviews. These men – approximately 10 participating Gold Medal recipients – will represent the less than 1,500 remaining World War II merchant seamen nationwide.
World War II merchant seamen were killed at a higher rate than any branch of the U.S. military during the war, often having no protection against enemy forces. Merchant seamen enabled the United States and its allies to overcome all odds and defeat German U-boats that impeded the passage of supplies and assets needed to win World War II. With Memorial Day just a few weeks away, this is an opportunity to interview these heroes to learn more about the hardships endured by these men.
WHAT: Congressional Gold Medal Recipients – WWII Merchant Navy – Media Availability
VISUALS: The men will be at the 17th Street entrance to the World War II Memorial with the Lincoln Memorial serving as the backdrop. Longer interview requests can be submitted to the media contact: [email protected]
WHO: The event is hosted by US Merchant Navy Veterans
The following Congressional Medal recipients will be available (on behalf of their Merchant Navy colleagues who are unable to travel to Washington DC):
Merchant Mariner Dave Yoho – Dave Yoho, 95, served in the engine department during World War II, having trained at Sheepshead Bay. When the war ended (VJ Day), it was just before his 17th birthday. Dave currently lives in Fairfax, Virginia.
Merchant Mariner Charles Mills – 101-year-old Charles Mills began his maritime career in 1937 when he scaled the bridge of the S/S Carlton (a ship that would later be lost in PQ-17). Mills sailed throughout World War II and was a founding member of the National Maritime Union (NMU). Mills would land and serve as the NMU's official for four decades. He has participated in all four AMMV "Storm the Hill" events and remains active in organizational activities. Charles currently lives in Pearland, Texas.
LOCATION: World War II Memorial – 1750 Independence Ave SW, Washington, DC 20024
ABOUT WORLD WAR II MERCHANT SAILORS:
There were 243,000 sailors who served during the war. 9,521 perished while serving – a higher proportion of those killed than any branch of the US military.
About four percent of those who served were killed, a higher casualty rate than any US military service in World War II.
Merchant seamen saw some of the first actions of the war due to German U-boats attacking British merchant ships in the Atlantic, disrupting the supply chains of America's allies.