Arizona 'has had enough' begins piling shipping containers into gaps in border walls – AMAC
Arizona Governor Doug Ducey ordered 60 double-stacked shipping containers to be placed in gaps in border fences near Yuma, the state's busiest illegal border crossing area.
The containers will be reinforced with concertina wire at the top, according to the governor, who issued a Executive Decree for work to begin on August 12.
"Arizona has had enough," Ducey, a Republican, said in a press release.
"We can't wait any longer. The Biden administration's lack of urgency on border security is a dereliction of duty. Over the past two years, Arizona has done everything possible to work with Washington to resolve the crisis on our border.
Contractors began placing shipping containers on August 12 and plan to close the 1,000 foot gap in the border wall on August 14. It should cost $6 million.
The stacked shipping containers will reach about 22 feet high and will be tied together and welded together, Ducey said. The existing border wall built during the Trump era is 30 feet tall.
Yuma Sector Border Patrol agents have seen the biggest spike in arrests along the southern border since President Joe Biden took office.
In fiscal year 2022, minus three months yet to be reported, border agents arrested more than 162,700 illegal smugglers, according to Customs and Border Protection data.
In fiscal year 2021, the total was more than 184,500, while in fiscal year 2020, Border Patrol agents apprehended just over 8,700 illegal passers-by.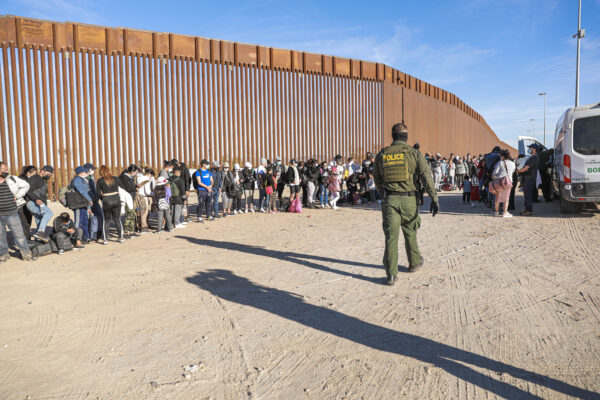 Doug Nicholls, Mayor of Yuma declared an emergency in his city on December 9, 2021, due to a massive influx of illegal aliens.
During that influx, the local 911 dispatch center was busy for hours with calls from illegal aliens asking for transportation, food and clothing, Yuma County Sheriff Leon Wilmot told Epoch Times.
Nicholls said Yuma, which has a population of nearly 100,000, does not have the resources to handle the thousands of people currently crossing.
"The influx of migrants that the federal government has allowed to cross the border has the serious potential to impact and strain our community," Nicholls said Aug. 12 in a press release. "Washington needs to send a clear message that this is not the way to immigrate to our country."
Department of Homeland Security Secretary Alejandro Mayorkas has repeatedly stated that "the border is closed."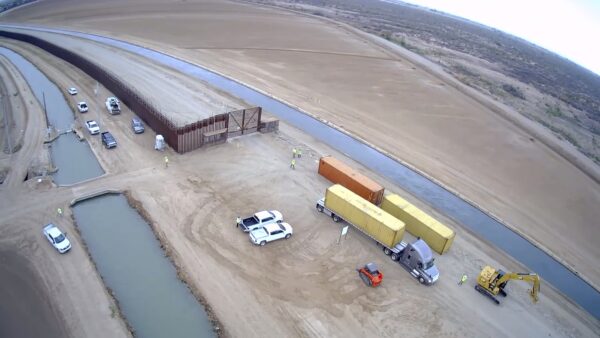 Border wall stopped
Biden halted all border wall construction the day he took office on January 20, 2021.
"It will be the policy of my administration that no more American taxpayer dollars be diverted to build a border wall," Biden said. Executive Decree States.
Millions of dollars unfinished border wall materials have remained in the Arizona deserts ever since.
A report by Senate Republicans released in July 2021 indicates that the construction shutdown is costing taxpayers $3 million a day.
The senators who produced the report estimated that the administration spent between $618 million and $708 million on contractors between January 20, 2021 and July 15, 2021, and will ultimately spend up to $1.2 billion. more to exit border wall projects.
Yuma County Supervisor Jonathan Lines hosted the shipping container wall.
"National security begins with border security. The Biden border crisis is deteriorating daily while the White House is silent," he said in a press release. "Border communities like Yuma carry the burden of a broken border as narcotics poison our youth, human trafficking increases and massive amounts of migrants carry our nonprofits."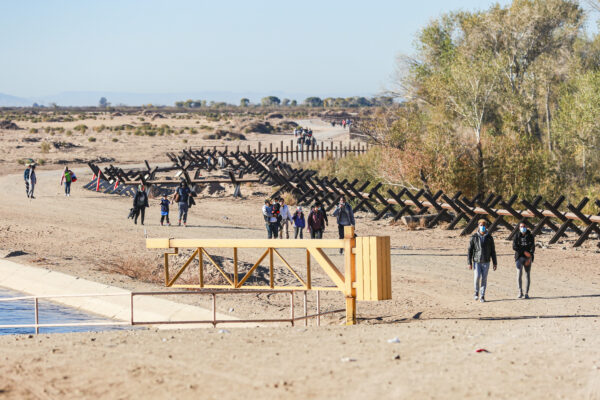 Limited time as governor, Ducey has pledged to support GOP gubernatorial candidate Kari Lake, who will face Democrat Katie Hobbs on Nov. 8.
Lake pledged to declare the border crisis an invasion on day one, if she won.
Arizona Attorney General Mark Brnovich issued an opinion on the invasion clause in the Constitution on February 7.
"The violence and lawlessness on the ground on the Arizona border caused by cartels and gangs is widespread, well documented, and persistent. It may meet the definition of "actually invaded" and "invasion" in under the U.S. Constitution," Brnovich's opinion reads.
"The federal government is failing in its duty under Article IV, Section 4 of the Constitution to defend the states against invasion. The state self-defence clause exists precisely for situations like this, to ensure that states are not left helpless. »
As commander-in-chief of Arizona, Ducey has the authority to "engage in defensive actions in his own territory at or near his border," according to Brnovich.
Ducey did not enact his authority to use the National Guard and militia forces in this manner.
---
Reprinted with permission from – The old times by – Charlotte Cuthbertson
If you like articles like this – Subscribe to AMAC's daily newsletter
and download the AMAC News app
register today
To download
If you like articles like this, subscribe to AMAC's daily newsletter!
---